PETRA 50th Anniversary Reunion Tour with special guests DEVIN WILLIAMS and NOT ASHAMED
This is going to sell out quickly so get your tickets now at
https://PetraNashville.com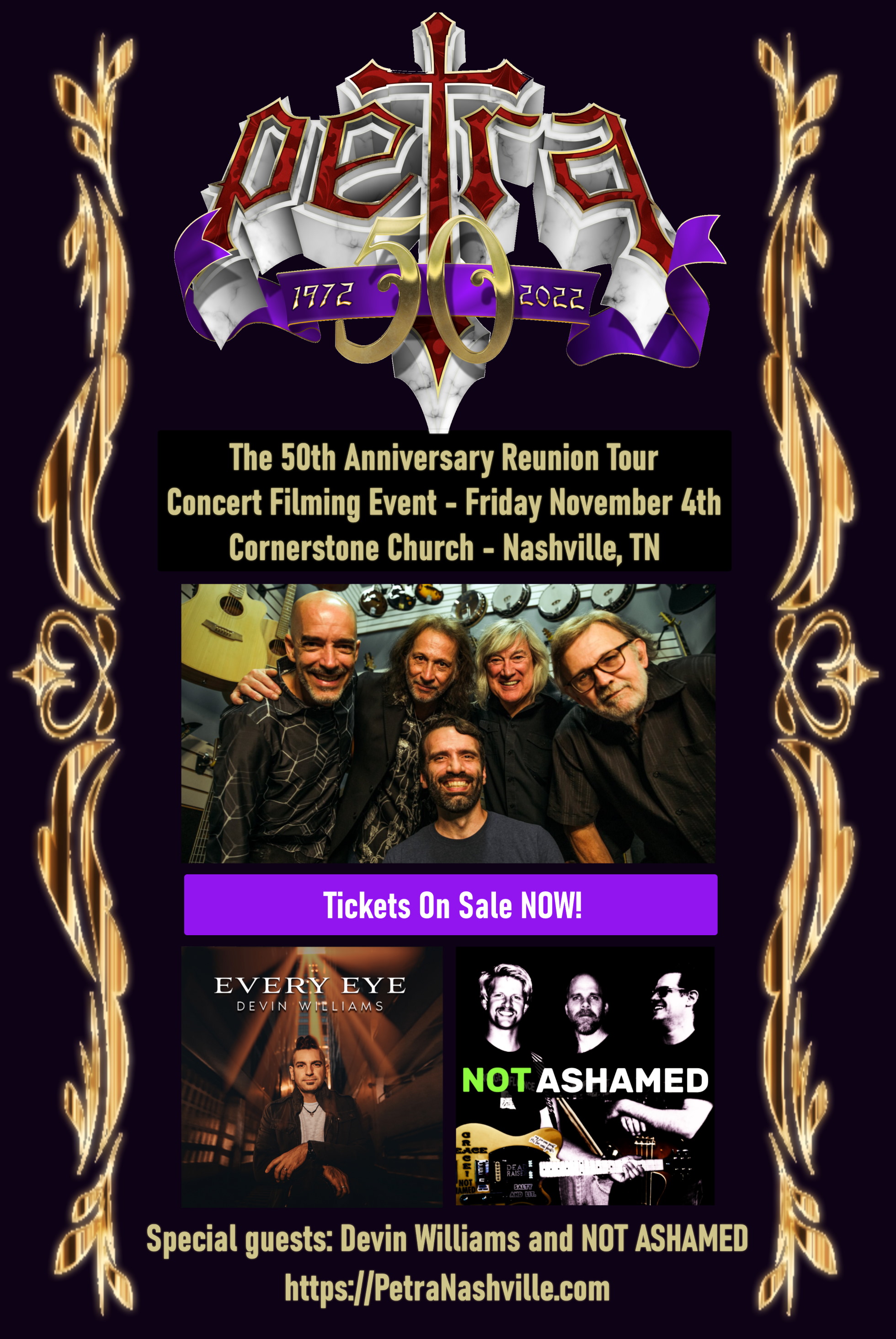 Be a part of this once in a lifetime concert filming event. This is going to sell out quickly so get your tickets now at
https://petranashville.com
Petra, one of the most popular and influential bands in Christian music history, who retired from touring in 2005, is doing a limited run of tour dates to celebrate 50 years as a band. The event in Nashville is being filmed and is sure to be the capstone of their 50th Anniversary tour. Whether they were the band you grew up with, or you just discovered them you will not want to miss this concert.  
It is rare for any artist to last 50 years, but for a band who has released 24 albums over their illustrious career, sold over 10 million records, garnered four Grammys, ten Doves, an induction into the Gospel Music Hall of Fame - it's relatively unheard of.  
Petra will be playing hits from their 50-year history as well as reminiscing about changes in the culture, the church and Christian music. Come join us and be a part of Christian music history!  
General admission and VIP tickets are available!  (VIP includes a backstage meet and greet with the bands before the concert)  
Special Guests: Devin Williams and NOT ASHAMED  
Devin is a seven-time Billboard Top 30 Christian Rock artist based out of Nashville, TN.  Devin's EP Every Eye was released in 2021 and has had 2 songs hit #2 on the Christian Radio Charts, Every Eye and Riverside. As a singer-songwriter, producer, and worship leader, Devin's passion is to truly connect personal stories and inspirations through his music. On the Billboard Christian Rock charts, he has previously charted the following singles; Destruction of Kings (#15), Like A Fire (#16), I Will Overcome (#18), Eraser (#23), Feel You Falling (#24), Here for You (#27), and Save Me (#30).   
Throughout his career, he has shared the stage with popular Christian artists, For King and Country, Tenth Avenue North, and Building 429, to name a few. Chart-topping Christian acts like Third Day have been praising Devin's faith and his power to deliver God's message through his music. Mac Powell of Third Day states that he is not only impressed by his music, but by his desire to spread the message of God's love and mercy. "You won't be disappointed! I believe God has something special for this guy," says Powell. Contemporary Christian solo artist, songwriter, and worship leader, Jeff Deyo of SonicFlood shares, "His voice is amazing, his talent is very evident and his heart and commitment to seeing God work through him is steadfast and contagious."  
NOT ASHAMED With powerful vocals, real drums, heavy bass, anthemic guitar solos along with face melting saxophone and Hammond B3 licks every song on Nashville, TN based NOT ASHAMED's self titled album takes the listener on a journey into experiences outside the realm of cut and dried CCM. From the rock / funk remake of Step By Step to the over the top energy of the title track, to the quirky, catchy Good Day that is sure to be come a staple of every morning radio show broadcast, to the powerful highland worship of In Spirt and Truth, Not Ashamed will leave the listener out of breath but hitting the replay button again and again to hear it one more time!  
EVENT LOCATION
Cornerstone Nashville
726 West Old Hickory Blvd.
Madison, Tennessee 37115  
Doors open at 6pm
VIP Meet and greet at 6pm
Concert Starts at 7pm